Laboratory for Human Disease Models
Curriculum Vitae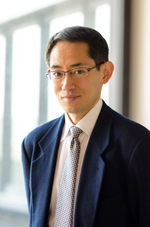 Name: Fumihiko Ishikawa, MD, PhD
Group Director and Chief Scientist, Laboratory for Human Disease Models
RIKEN Center for Integrative Medical Sciences (IMS)
Education
March, 1997 MD Kyushu University School of Medicine
March, 2003 PhD Kyushu University Graduate School of Medical Sciences
Postdoctoral Training
October, 1998-March, 2002 Post-doctoral fellow, Laboratory of Dr. Makio Ogawa, Medical University of South Carolina
Academic Appointments
April, 2005-December, 2005 Instructor, Department of Medicine and Biosystemic Science, Kyushu University Graduate School of Medical Sciences
January, 2006-March, 2011 Unit leader, Research Unit for Human Disease Models, RIKEN Research Center for Allergy and Immunology (RCAI)
April, 2011-March, 2013 Group Director, Laboratory for Human Disease Models, RIKEN RCAI
April, 2013-present Group Director, Laboratory for Human Disease Models, RIKEN IMS
April, 2013-present Chief Scientist, RIKEN
Awards and Honors
April, 2009 Young Scientist Award, Ministry of Education, Culture, Sports, Science, Japan
February, 2014 10th JSPS Award, Japan Society for the Promotion of Science
Major Interests
1. Understanding reconstitution of human immunity from hematopoietic stem cells
2. Targeting human hematologic malignancies with poor prognosis
Selected Publications
1. A pyrrolo-pyrimidine derivative targets human primary AML stem cells in vivo. Science Transl Med 5:181ra52, 2013.
2. Membrane-bound human SCF/KL promotes in vivo human hematopoietic engraftment and myeloid differentiation. Blood 119:2768-2777, 2012.
3. Induction of cell cycle entry eliminates human leukemia stem cells in a mouse model of AML. Nature Biotechnol 28:275-280, 2010.
4. Identification of therapeutic targets for quiescent, chemotherapy-resistant human leukemia stem cells. Science Transl Med 2(17):17ra9, 2010.
5. Generation of functional human T-cell subsets with HLA-restricted immune responses in HLA class I expressing NOD/SCID/IL2rγnull humanized mice. Proc Natl Acad Sci USA 107:13022-13027, 2010.