Events
Karolinska Institutet ‒ RIKEN Joint International Doctoral Course 2023
Bioinformatics Analysis and Visualisation of Medical Genomics Data
Oct 4-18, 2023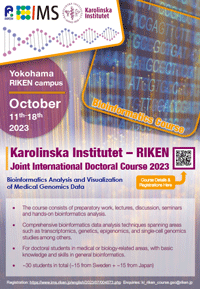 Karolinska Institutet (KI), which focuses on state-of-the-art high-throughput molecular technologies and bioinformatics. RIKEN and KI have a long-standing collaborative relationship since 2001 and together achieved remarkable research outcomes, e.g. FANTOM (Functional Annotation Of Mammalian Genome) 5 Project. Promoting the scientific exchange of young talents between Japan and Sweden is one the major goals of the RIKEN and SciLifeLab/KI collaborative effort.
[Purpose]
To enhance both basic understandings and practical skills in bioinformatics analysis, such as transcriptomics, epigenomics, genetics, and single-cell genomics, among others.
To offer students a platform for interaction and learning from researchers at top-tier research institutions.
To facilitate both scientific and cultural exchange between students from Japan and Sweden.
[Contents]
Comprehensive bioinformatics data analysis techniques, derived from handpicked published projects, spanning areas such as transcriptomics, genetics, epigenomics, and single-cell genomics studies among others.
Fundamentals of sequencing-based genomics technologies along with corresponding bioinformatics data interpretation strategies.
Understanding the principles of gene regulation in non-pathological conditions and their aberrations in diseases, both at individual locus and genome-wide levels.


[Date]
Oct 4-18, 2023
Week 1: Oct 4-10: Work on task assignments from home
Week 2: Oct 11-17: Onsite Work/Lecture at RIKEN Yokohama
Oct 18: RIKEN-KI-SciLifeLab Symposium on Data Driven Multi-omics Integration in Life Sciences (not mandatory, but highly commended)
(Swedish students exchange at RIKEN host labs for 1~2 weeks.)
[Venue]
RIKEN YOKOHAMA
6F Conference Room, North Building
[Format]
The course will be held in an international environment with English as course language.
The course consists of preparatory work, lectures, discussion, seminars and hands-on bioinformatics analysis.

P

reparation work is done in the week 1 without the need to be present on-site. Week 2 consists of lectures, seminars, discussion

sessions and

hands-on practicals.
For hands-on practicals, students will be divided into groups based on several handpicked published projects led by different teachers.
Individual presentations of their analysis results as examination at the end of the course.
On the last day (Oct 18th), students are encouraged to attend the RIKEN-KI-SciLifeLab Symposium on Data Driven Multi-omics Integration in Life Sciences at RIKEN Yokohama (not mandatory).
For students from Sweden, an optional exchange at RIKEN host labs for 1~2 weeks is possible. Students would be assigned to a host lab at RIKEN IMS based on the contexts of their research project. The student is expected to work on their own research project during the period and discuss with the host lab members.

[Blog]
[Participants and application procedures]
~30 students in total (~15 from Sweden + ~15 from Japan : Application from Sweden has already been closed)
Doctoral students in medical, biological, or biology-related areas currently studying in graduate schools either in Sweden or Japan.
The participant should have basic knowledge and skills in general bioinformatics (e.g. basic R / Python / Shell / Perl programming)
Applicants should obtain permission from their supervisors to participate in the course.
Applicants are screened and accepted based on suitability and motivation.
Participants who successfully pass the course examination will receive a certificate of completion.
No tuition is required.
Registration Closed
APPLICATION DEADLINE: Aug 24th extend to Sep 1st, 2023 (students from Japanese Universities)
[Travel Costs]
Self-funded
[Accomodations]
Applicants should book their accommodations by themselves if needed. (Here is a link to Trip adviser website)
[Teachers and Lecturers]
Dr. Katsuyuki Yugi (RIKEN, Japan)
Dr. Masahiro Nakano (RIKEN, Japan)
Dr. Shouhei Kojima (RIKEN, Japan)
Dr. Lea Mikkola (InFLAMES Research Flagship Center, University of Turku)
Dr. Jordan Ramilowski (Yokohama City University, Japan)
Dr. Wallce Yip (RIKEN, Japan)
Dr. Carsten Daub (Karolinska Institute/SciLifeLab, Sweden)
[Schedules]
Oct 04 to 10: Work on task assignments from home
Oct 11 (Wed): Course days 1
Oct 12 (Thu): Course days 2
Oct 13 (Fri): Course days 3 (with social activity)
Oct 14 (Sat): Weekend day-off
Oct 15 (Sun): Weekend day-off
Oct 16 (Mon): Course day 4
Oct 17 (Tue): Course day 5 (with examination and social activity)
Oct 18 (Wed): (not mandatory) RIKEN-KI-SciLifeLab Symposium: Data Driven Multi-omics Integration in Life Sciences
[Organizers]
Dr. Carsten Daub (Karolinska Institutet/SciLifeLab)
Dr. Piero Carninci (RIKEN/Human Technopole)
Dr. Harukazu Suzuki (RIKEN IMS)
Dr. Chung-Chau Hon (RIKEN IMS)
[Contacts]
RIKEN-KI Bioinformatics Exchange Program 2023 Secretariat
RIKEN Center for Integrative Medical Sciences, RIKEN Yokohama Institute
1-7-22, Suehiro-cho, Tsurumi-ku, Yokohama, 230-0045 JAPAN
General inquiries: ki_riken_course.gsc[a]riken.jp (please change [a] to @)
(Please indicate in the Email subject line that your query is about RIKEN-KI Bioinformatics Exchange Program 2023)