News
Obituary for Dr. Kimishige Ishizaka (Dec. 3, 1925-July 6, 2018)
July 17, 2018 NEWS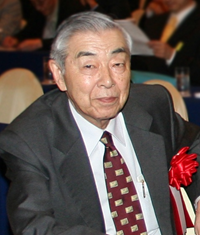 Dr. Kimishige Ishizaka (at the celebration party of his 80th birthday in 2006)
Dr. Kimishige Ishizaka passed away at 7:58 am on July 6th, 2018. Dr. Ishizaka was born on December 3rd, 1925 and he was 92 years old. He made many invaluable contributions to the development of our research center, RIKEN Center for Integrative Medical Sciences (IMS). Beginning in 2001 he was the Senior Advisor of our former Center, RIKEN Research Center for Allergy and Immunology, and held that position for twelve years.
Dr. Ishizaka and his wife, Teruko, conducted their research in the US for over 35 years and made several important discoveries during that period, including the discovery of the long-elusive IgE antibody isotype, which elicits allergic reactions. Dr. Ishizaka held positions as Director of the Immunology Department at Johns Hopkins University School of Medicine, President of La Jolla Institute of Allergy and Immunology (LJI), President of the American Association of Immunologists, and Adjunct Professor at the University of California, San Diego. After his return to Japan, his presence at our research center as the Senior Advisor was an inspiration and helped us pull together for the Center's research projects.
LJI and IMS, the two research institutions that Dr. Ishizaka supported during their establishment, continue to collaborate with the goal of overcoming immune-related diseases. The collaborating laboratory, led by Dr. Hilde Cheroutre, has been actively working at IMS to understand the gut mucosal immune system.
Allergy continues to be one of the most important research topics in our Center. From the large-scale ENU mutagenesis project, launched in 2001, we successfully isolated an atopic dermatitis mouse model named the Spade mouse. Using this mouse model, multiple laboratories in the Center and clinical dermatologists at university hospitals collaborate for the elucidation of atopic dermatitis pathogenesis. IMS allergy research has expanded to become a multidisciplinary project involving immunology, genomics, epigenetics, neuroscience, informatics and clinical medicine. In addition, young researchers are pioneering new concepts for the regulation of asthma and other allergic diseases by the innate immune system.
The scientific discoveries that Dr. Ishizaka left us, and his strict but collaborative attitude toward science, will continue to remain in our hearts and inspire us forever.
Tadashi Yamamoto Director, RIKEN Center for Integrative Medical Sciences
---
Dr. Kimishige Ishizaka was an invaluable mentor for the members of the RIKEN Center for Allergy and Immunology (RCAI), currently restructured as the RIKEN Center for Integrative Medical Sciences (IMS).
Approaching the end of the year in 2000, I received a facsimile message on December 29th. It was announcing that the establishment of a research center for allergy and immunology had been approved in the government budget for 2001, Dr. Ishizaka was appointed as the chairman of the establishment committee, and he asked me to cooperate for the creation of a basic research institution to contribute to allergy and immune regulation fields. Later, the President of RIKEN appointed me as the Director of the Center and Dr. Ishizaka as the Senior Advisor. Thus, Japan's first research institution dedicated to allergy and immunology was founded with the support of 300 million yen from the government. This could not have been realized without Dr. Ishizaka.
In 1966, at the Children's Asthma Research Institute and Hospital in Denver, Colorado, Dr. Ishizaka and his wife, Dr. Teruko Ishizaka, discovered a novel antibody isotype that was associated with allergy (so-called "reagins"). At that time, researchers could not isolate reagins by immunoprecipitation or other biochemical techniques, and the nature of reagins had remained a mystery for 40 years. However, Dr. Ishizaka predicted the existence of extremely low concentrations of reagins in the "IgA fraction" of serum, by demonstrating that reagin activity in the IgA fraction remained the same after IgA neutralization. The only way to prove his hypothesis was to monitor the existence of reagin by intradermal tests.
After moving to the Children's Asthma Research Institute and Hospital in Denver, Dr. Ishizaka and his wife Teruko identified reagins from a truck-load of atopic patients' serum by using an intradermal test on the skin of their own backs to monitor the reagin activity during purification. Further, by using radioisotope-labeled antigens, they finally detected reaginic antibody by agarose-gel immuoelectrophoresis. They named this novel class of immunoglobulin, IgE, which was unique from the already known immunoglobulins, IgG, IgM, IgA and IgD (Ishizaka K., Ishizaka T., Hornbrook MM. Physico-chemical properties of human reaginic antibody. IV. Presence of a unique immunoglobulin as a carrier of reaginic acitivity. J. Immunol. Vol. 97, p. 75-85, 1966).
In 1989, Dr. Ishizaka became the Founding Director of the La Jolla Institute for Allergy and Immunology (LJI), where he trained many young investigators. In 1996, the Ishizakas returned to Teruko's hometown in Yamagata, Japan, but Teruko was hospitalized because of her illness. Dr. Ishizaka spent his time with Teruko in her hospital room, but he still managed to attend the Japanese government's research council, monthly meeting of The Japan Academy, research lectures, and Clinical Allergy Strategic Meetings held at the newly established RCAI every month. At RCAI, he participated as an active researcher in the development of an allergy vaccine that suppress IgE production.
Dr. Ishizaka received numerous awards for his achievements in allergy and immunology fields. Among them were American Passano Foundation Award in 1972, German Paul Ehrlich and Ludwig Darmstaedter Award, Japanese Takeda Medical Award, and Canadian Gairdner Foundation International Award with Teruko in 1973. In 1974, he received the Japanese Asahi Cultural Award, Emperor's Award, The Japan Academy Award, and The Order of Cultural Merit. In 1979, he received the Borden Award of Association of American Medical Colleges, and the Japan Prize in 2000.
I strongly believe that Dr. Ishizaka's research attitude and his research philosophy will be the best model for young scientists and the future leaders in immunology.
Masaru Taniguchi Senior Visiting Scientist, Program for Drug Discovery and Medical Technology Platforms, RIKEN Cluster for Science, Technology and Innovation Hub