News
Dr. Carninci, Dr. Ohno and Dr. Okada awarded by the Minister of the Education, Culture, Sports, Science and Technology
April 17, 2018 NEWS
On April 10, 2018, Piero Carninci Deputy Director from Laboratory for Transcriptome Technology, Hiroshi Ohno from Laboratory for Intestinal Ecosystem and Mariko Okada from Laboratory for Integrated Cellular Systems were received the Commendation for Science and Technology by the Minister of Education, Culture, Sports, Science and Technology.
This award is given to those who conducted original research or development which highly contributes to the development of science and technology in our country.
The award ceremony was placed at the ministry of Culture, Sports, Science and Technology on April 17.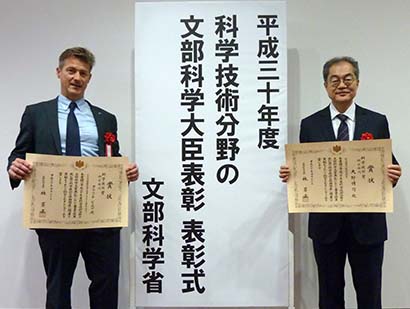 Carninci Deputy Director (left), Ohno Team Leader (right)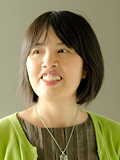 Okada Team Leader

[Award details]
● Piero Carninci
Deputy Director, Division of Genomic Medicine, RIKEN IMS
Team Leader, Laboratory for Transcriptome Technology, RIKEN IMS
"Research on genome function by development of large-scale RNA analysis technology"
● Hiroshi Ohno
Team Leader, Laboratory for Intestinal Ecosystem, RIKEN IMS
"Integrated study of intestinal environment"
● Mariko Okada
Professor, Institute for Protein Research, Osaka University
Team Leader, Laboratory for Integrated Cellular Systems, RIKEN IMS (concurrent position)
"Interdisciplinary research on cell mechanism using experimental science and mathematical model"