News
RCAI Participated in the Annual Festival of the Yokohama Science Frontier High School
October 2, 2010 PRESS RELEASE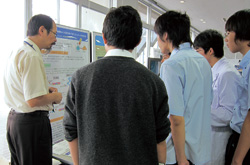 The Yokohama Science Frontier High School is a new public high school established in 2009, and located in Tsurumi-ono near the RIKEN Yokohama Institute. The school emphasizes the teaching of advanced science and technology, and RIKEN Yokohama Institute closely provides support for the students' education. Akiyoshi Wada, the first Director of the RIKEN Genome Science Center, is now the Super Advisor of the high school, and RCAI's Hiroshi Kawamoto (Leader, Laboratory for Lymphocyte Development) is also an advisor there.
On Saturday and Sunday, Oct. 2nd and 3rd, Kawamoto participated in the high school's annual festival and used a poster to explain the generation of NKT-iPS cells for cancer therapy. There were 4,586 visitors to the entire school festival, mainly high school students, teachers, neighbors, junior high school students who are interested in entering the school and their families. Other research institutes and companies also prepared booths at the festival.
"It was good to talk with researchers on this occasion and get to know RIKEN's activities," one student said. "The number of visitors was nearly twice that of RIKEN Yokohama Institute's Open Campus. This may be a good occasion to communicate with young students and help them to develop interests in science," a RIKEN staff member noted.