News
INSERM/Pasteur-RIKEN Joint Workshop
August 30, 2010 PRESS RELEASE
The goal of these joint workshops is to promote collaboration between Japanese and French researchers and also between investigators in France, all of whom had the opportunity for in depth discussions at RCAI. Many common interests became apparent in each of the different workshop sessions. The first session on "Hemopoiesis and lymphocyte development" featured talks on lymphoid progenitors and lineage commitment at both cellular and molecular levels (Cumano (photo 4), Kawamoto, Taniuchi), and included a spirited discussion on whether the "common" lymphoid progenitor, a cell restricted in its potential to the generation of B and T cells, actually exists. Next was a large session on "Lymphocyte activation and function". The first two presentations dealt with innate type lymphocytes, the NK cell (Vivier) and the γδ T cell (Bonneville). The next series of talks were on various aspects of conventional T cell activation by dendritic cells (Amigorena, Ishido) and the signaling events in the activated T cell (Saito, Malissen). In the last talk in this session, Kurosaki provided new insights into the physical location of memory B cells in spleen, adjacent to contracted germinal centers (GC), their birthplace. The final session of the day focused on regulation of allergic and inflammatory responses by intracellular signaling molecules (Kubo) and an intranuclear ubiquitin E3 ligase, PDLIM2 (T. Tanaka).
The second day of the workshop began with three talks highlighting new developments in the area of the mucosal immune system. IgA is the major mucosal antibody isotype, and Fagarasan (photo5) described how the follicular dendritic cells in the GC of Peyer's patches are particularly well-equipped to promote IgA class switching. Eberl (photo6) described unusual innate lymphoid cells that mirror all shades of conventional helper T cells and are highly enriched in the intestinal lamina propria, where they promote intestinal homeostasis. Ohno has been studying the mechanisms by which so-called probiotic bacteria, in this case Bifidobacterium longum, protect against the harmful effects of pathogenic strains.
The final session moved to the "clinics", as promised in the workshop title. Taniguchi (photo7) described very promising clinical trials of NKT cell-targeted adjuvant therapy for human non-small cell lung cancer as well as efforts to generate NKT cells from iPS cells in vitro for potential clinical application. Chatenoud discussed translational studies using antibodies to CD3 to promote immune tolerance in type 1 diabetes, and Fischer described two diseases affecting lymphocyte homeostasis, including new forms of inherited hemophagocytic lymphohistio-cytosis and somatically acquired defects in Fas-mediated apoptosis that can cause autoimmune diseases in some cases. In a strategy combining human and animal models, Ishikawa described the use of "humanized" mice, which can be reconstituted with human immune cells, to study to pathogenesis and potential treatment of acute myeloid leukemia.
The second INSERM/Pasteur-RIKEN Joint Workshop ended with a renewed commitment to fostering collaboration between RCAI and the French institutes, as well as plans to hold a 3rd such workshop in the future.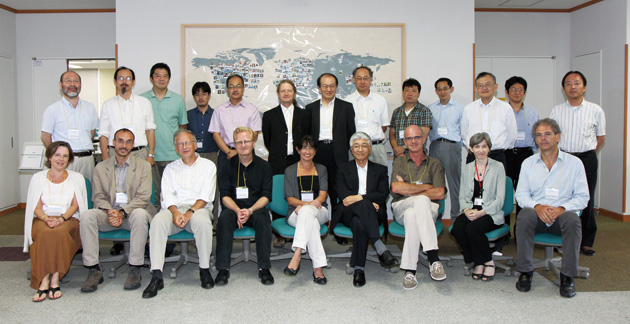 (photo8)